CPR Invest Global Disruptive Opportunities
CPR Invest Global Disruptive Opportunities
INVEST TODAY
IN TOMORROW'S WORLD
Generated by technology, disruption creates opportunities
in all patterns of innovation
A global phenomenon, all sectors increasingly impacted
An accelerating process driven by megatrends
For fund details
Looking for further information ?
Please contact our dedicated team who will address your concerns as quickly as possible.
In brief
Disruption can be understood as any innovation that introduces a new product or service providing a cheaper, smarter, simpler or more convenient use to customers.
CPR Invest Global Disruptive Opportunities aims to benefit from disruptive companies, game changers who offer solutions that could be defined as smarter, more convenient, sustainable, faster or cheaper.
The compartment aims to outperform the global equity markets by investing in companies which either establish or benefit from disruptive business models.

DISRUPTION SHAPES THE WORLD
This is expected to deeply transform an existing market or to create a new one, in all cases to change the established order: new entrants may irreversibly remodel the way an industry works by breaking the codes and challenging leading positions.
Disruption has always existed but has strongly accelerated over the last decades, offering significant investment opportunities.

CPR AM, A UNIQUE APPROACH
Disruption is plural. CPR Invest Global Disruptive Opportunities investment universe combines four large dimensions to reflect the global disruptive spectrum: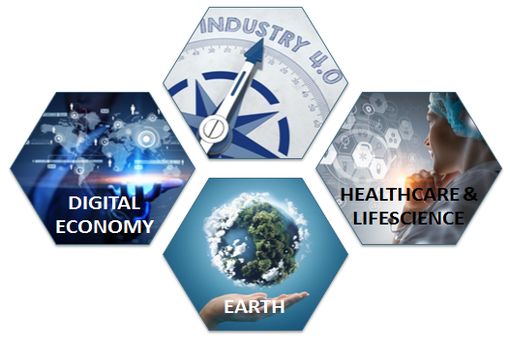 EXPERTS AND CONVICTION-BASED MANAGEMENT
The definition of the investment universe is carried out through a pure qualitative approach involving buy-side analysts from Amundi and worldwide innovation experts from Deloitte consulting firm. They bring support in the follow-up of trends and dynamics within each sector while providing us expertise in the detection of potential new disruptive waves and in the analysis of business models' changes.
After this qualitative universe definition, Management Team uses a stock analysis to reach a final portfolio composed of around 80 stocks . Stock weights are based on portfolio managers conviction.

Keep an eye on
Risk of loss of principal.
No guaranteed returns.
Recommended investment horizon: at least five years.
Shifts in equity prices may have a negative impact on the fund's net asset value
Currency risk not being systematically hedged for the part of investments that is made outside the Eurozone, a decline in the exchange rate can lead to a loss of value
The investment theme is characterized by its sector choices, when financial markets are driven by other non-related sectors, the fund may not benefit from the market growth.
The fund may exhibit high levels of volatility due to the composition of the portfolio or the applied management techniques, which means that the share values may be subject to major upward and downward fluctuations within a short period of time